Restorations
Blast Off, Inc. is dedicated to providing the finest quality restorations of static displays, museum artifacts, operational aircraft, & ground equipment at the best possible price.
Training – Aircraft Specific Coatings Removal Training
Blast Off, Inc. was the first to develop and implement "Aircraft Specific" training for plastic media blasting.  Training seminars educate Plastic Media operators in aircraft masking, skin mapping, optimizing blast parameters for surface and performing inspections required to perform the Plastic Media Blasting Process.  Customers include; Bell Helicopter Textron, Sikorsky Aircraft Corporation, Acrohelipro Global Services, Dyncorp, Army Fleet Support, Ft. Rucker Army Aviation Base, Corpus Christi Army Depot, Dept. of Transport Canada and the Australian Government Department of Defense.
Military Base Maintenance Services
Blast Off, Inc. supplies quarterly maintenance services to Ft. Rucker Army Aviation Installation.  This work includes, but is not limited to, monitoring, inspecting, calibrating Plastic Media Blast Equipment and dependent equipment relating to the plastic media blasting process.  Emergency service is available within 24 hours of notification.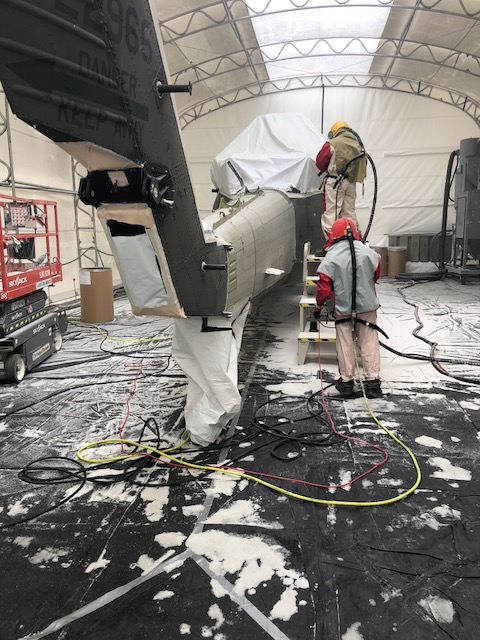 Portable Maintenance Facility
Blast Off, Inc. has worked with the NAVY/MARCORP in the design and installation of the Portable Maintenance Facility (PMF), which provides the ability to conduct Plastic Media Blast stripping and painting operations and still maintain regulatory compliance with air quality, HAZMAT, & Engineering Facilities Center in Port Hueneme, California, at MCAS Kaneohe Bay in Hawaii and at USMC Base Futenma in Okinawa.
In 2012, Blast Off, Inc. installed a Portable Maintenance Facility (PMF) located at Baghdad, Iraq, for Dyncorp International, LLC. personnel to Strip and Paint Department of State Aircraft onsite.